Choice
God, in His Perfect Love, Gave us a Choice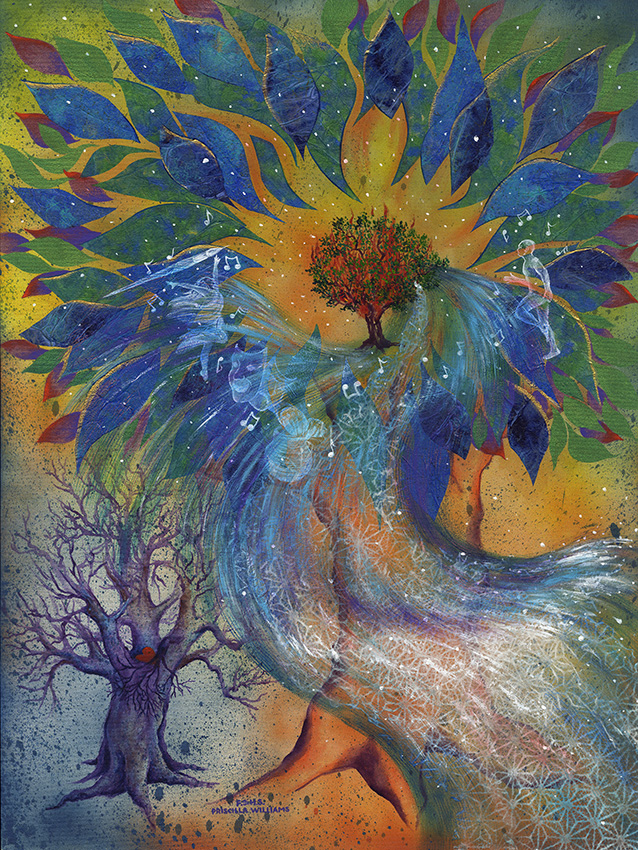 Choice portrays the decision we all must make regarding the direction and focus for our lives. Choice was created out of Love. We have two choices: The Tree of Knowledge of Good and Evil or The Tree of Life.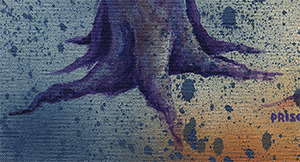 In this depiction, the Tree of knowledge of Good and Evil has six roots representing humanity. It is barren and thus bears no fruit because it is rooted in mankind's limited understanding and futile endeavors.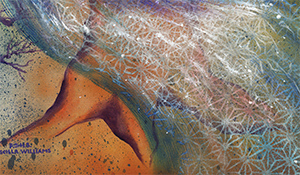 The Tree of Life has three roots which represent the Holy Trinity: Father, Son, and Holy Spirit. Its roots are embedded in God's Glory as depicted with the vibrant colors, orange and yellow.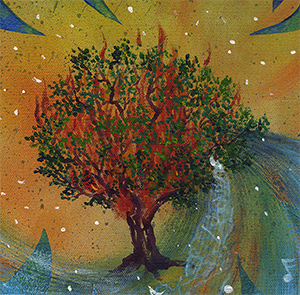 The burning bush, which represents God, is at the center of the Tree of Life. This Tree, rich in color, outward movement and energy, bears fruit continually because it is surrounded and bathed in God and His Glory. True, life-supporting understanding comes from the Tree of Life.
The figure running toward God's Presence, in the burning bush, is focused and steadfast in his gaze. His forward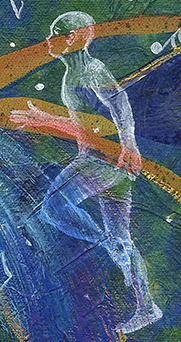 motion suggests his awareness of his need for God and his intent on knowing God more deeply. He is actively pursuing God and the design and purpose God has intended for his life.
The river flowing out of the burning bush is the Spirit of God and the Creativity He exemplifies. The paintbrush, dancer, masks, potter's hands and musical notes all symbolize creativity dedicated to God. The arts are the language of the heart and were given by God to bring praise, honor, and glory to Him. When used for His purposes,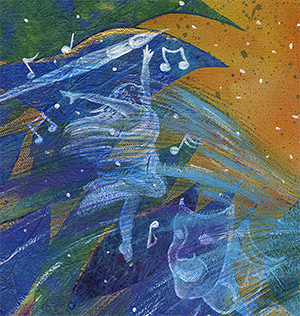 the arts can help keep body, soul and spirit in alignment with Him while also bringing encouragement and comfort to the souls of others.
The river also represents God's grace flowing through the consecrated arts to water the lodged captured heart giving the heart consciousness of its choice to stay or be set free. When we are not in pursuit of the Presence of God, we head in the direction of the Tree of Knowledge of Good and Evil. We lean on our own understanding and sense of what is good or bad mostly depending on how it feels to us. We can stray into all kinds of seemingly good things while having no time to pursue God's heart. Eventually the heart becomes numb to the need for a personal relationship with God and living in His Presence, within the Tree of Life.
The heart becomes stuck or wedged in the Tree of Knowledge of Good and Evil and is overcome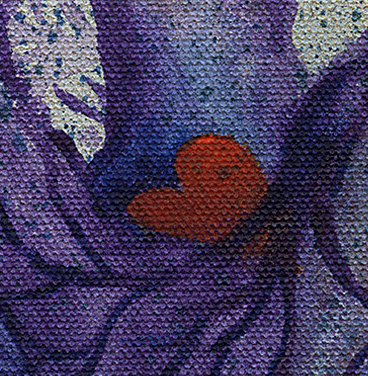 as it seeks to find purpose and meaning in life. In this striving, life becomes barren and empty – void of true understanding and vision. The heart, held in this captivity, eventually withers and dies.
This depiction reminds us that no matter what our circumstances, we always have a choice. The choice may narrow down to only one thing: how I respond to my circumstances.