Into Me See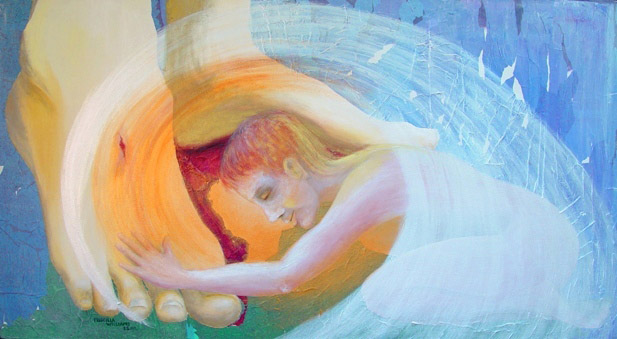 The surrendered worshiper falls at the feet of Jesus Christ with the overflow of gratitude for the debt He paid at Calvary. The Sacrificial Lamb's blood still flows freely for the cleansing of all sin (the mind is covered in the blood….red color on the head). There is no other way to freedom from sin.
The humble worshiper can know His protection in worship. It can feel cocoon-like, womb-like, clef-in-the-Rock-like. There is protection from and even a put-togetherness in the midst of the fragmentation of the world around the humble worshiper. The worshiper's mind and heart are filled with praise (the orange color) and it overflows so as to wash Jesus' feet with praise. There is a sense of the Bridal Veil Covering over the worshiper as well.
This image kept coming to me in corporate worship for several months before I realized I was to release it onto canvas. It is a combination of painted tissue papers and paint. What else do you experience in this intimate image of the humble worshiper?