Lamb of God Version 1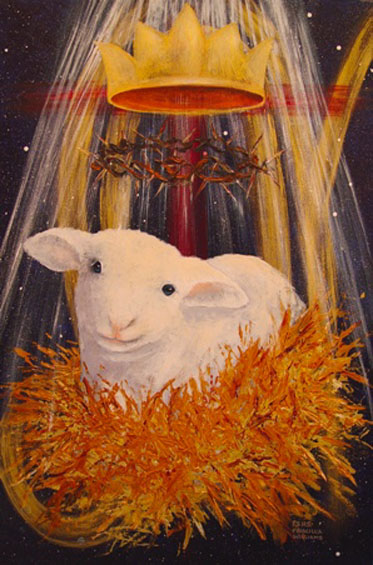 When I received this image layer by layer I originally saw the first layer as the old town of Bethlehem, because I knew God was wanting me to identify Jesus' place of birth in the background.
As days passed I felt a disturbance with that image of Bethlehem. I still felt the prompting to paint the place of birth, however. So, I asked the Lord, "Why the disturbance? Jesus was born in Bethlehem."
I got a sense of His reply. That Bethlehem was Jesus' earthly location of birth, but not His spiritual location in being birthed into this realm.
HE WAS BIRTHED IN JOY.
Well….. that was a surprise to me!
I knew God called His people into His Rest, as if it were a place…… a "state of being" kind of place in God's heart…… a place that you can only be in when you are right with God and completely trusting Him.
So this was not that much of a stretch to consider JOY a place in which to be born and to live. It is a fixed spiritual place, but all spiritual places require a huge struggle on earth to realize.
Hebrews 12 says ……."for the JOY that was set before him, Jesus endured the cross."
There it was………. I saw Jesus remembering His birth place to be able to take us to be birthed in that same place of JOY. Christmas is about being birthed in that place of JOY with Jesus.
YES, JOY TO THE WORLD. This very real place is now accessible through this one called the LAMB OF GOD.
Jesus was not JUST coming as a baby.
Why was He born in a stable? "Behold, the LAMB OF GOD" said John the Baptist. Lambs know such environments and feel right at home there. Did we miss that revelation?
The stable was not fitting if Jesus was only a baby, but very fitting if He was the sacrificial lamb…………. AND HE WAS THE SACRIFICIAL LAMB FROM BEFORE THE FOUNDATIONS OF THE WORLD. So the stable was only another proclamation or prophetic word from heaven to earth.
So that is why in this painting the lamb is in the "strawed" manger instead of the baby. This baby came with sacrificial destiny all over Him. It over-shadowed Him from before conception. Yes, there would be the walking out of what happened before the foundations of the world. And yes, suffering is part of what will reveal the true birth place.
Joy is not an emotion/it is far deeper than that. It is not happiness, yet it can cause happiness.
REALLY TRUE, STRENGTH-PRODUCING-JOY is a hidden place. It is the suffering and struggle that can open up that hidden place and allow others to see THE REAL THING……. THE JOY THAT IS ABSOLUTELY VICTORIOUS. It is a very rare gem. Unfortunately most Christians are NOT willing to pay the price for this rare gem.
The crown of thorns, the cross……… well, they will produce gold…… gold that will make the crowns that on the other side of this so-called reality we get to one day throw at Jesus' feet crying out with all of heaven's angels, "WORTHY……. WORTHY…….. WORTHY IS THE LAMB WHO HAS BEEN SLAIN FOR THE SINS OF THE WORLD……. WORTHY…. WORTHY…. WORTHY!!!!!!!"
Yes, THIS IS WHAT CHRISTMAS IS REALLY ALL ABOUT.
IT IS AN INVITATION TO ENTER THROUGH THE OPEN DOOR OF JESUS CHRIST AND FIND ABUNDANT LIFE IN THAT PLACE CALLED JOY…………. ENDLESS, LIFE-GIVING JOY.