About Priscilla Williams
Visionary, Painter, Teacher, Author
Born in May of 1946 in Carlisle, PA I was the middle child of five. I grew up on a 100-acre dairy and chicken farm. Hard work was part of the family interlacing.
In addition to being a dairy farmer, my dad was an agricultural teacher in the local high school, and he was a community development leader.
We had to travel 9 miles to connect with our school and church communities, so we could not get too involved in extra activities of those communities. This caused both a sense of living on the periphery and an opportunity to discover more of the creative simplicity of life.
Our family's relationship and sense of dependence on God was fairly straight forward and simple.
In September of 1958, when I was 12 years old, our family's faith in God was severely tested. All the neighboring farmers helped each other at harvest time. My dad was helping our neighbor when the tractor he was on hit a rock and flipped pinning him to the ground. The other farmers came running and supernaturally lifted the tractor off him as he crawled out from under it. Unfortunately, his injuries were so severe, he did not survive.
We children were at school when it happened. We came home to find that life on the farm and inside our soul had changed forever.
Even though my mother was a spiritual giant and did all she could to help us through, my father's death sparked a prolonged spiritual conflict for me that kept escalating until I was twenty-six years old.
At its essence, it was a struggle over surrender and trust. I wanted to fully give my life to God, but I had trouble putting my serious doubts about His trustworthiness to rest.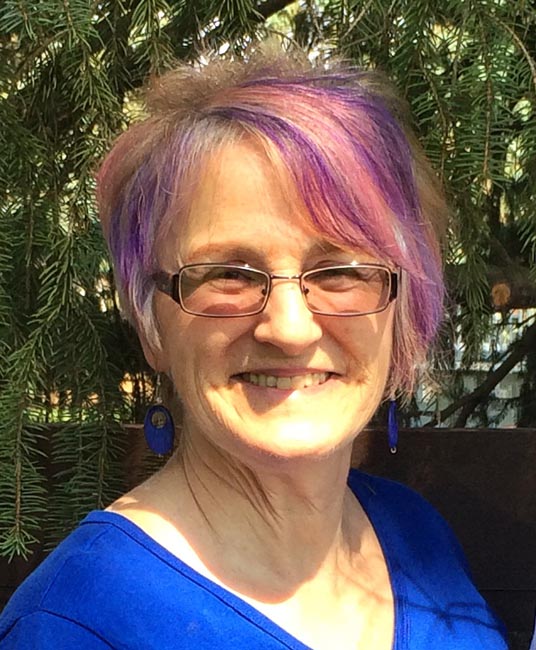 In 1982, in the course of serving in a very challenging pastoral ministry, I discovered a personal interaction with the third person of the Holy Trinity, Holy Spirit. At this time a new dimension of my faith journey opened up and the Lord did a lot of restructuring of my inner life.
Another such remodeling came as I left the ordained pastoral ministry of the United Methodist Church, after twenty-five years, in order to follow my Master down a path less traveled — the path of my 'promised land'. It was on this path that I came to realize that my primary language is non-verbal –- so different from all of the verbal articulation required of me as a pastor. I pressed all the more into the visual language to gain greater articulation there. I would sit alone with the Lord for hours and receive the visual language — colors, impressions, and images that brought greater understandings which eventually became available for verbalization.
I recorded these experiences in my journal — impressions, colors, textures, shapes, and full images/visions –- but I didn't simply keep these experiences to myself. I shared them with others and I discovered a deeper connection with myself, God, and others as I did so. This increased until it dawned on me that there was a growing desire in the hearts of others for me to share these revelations with them. Others wanted copies of my journal pages and they wanted to be able to receive from God in the same manner.
I knew God wanted to write a book through me long before this. It just took awhile for me to realize that this joyful discovery of creative journaling was to be the content. 'VISUAL ENCOUNTERS: Meeting God Through Creative Journaling' became the discipline through which much integration of the visual (non-verbal) and the verbal happened for me.
By God's faithful relentless grace my identity is coming down to only who I am IN Christ Jesus, not structured around how I perform. I can only get to that true identity through intimacy with Him, as my true self is securely hidden in Him. He is freeing me to do only that which is authentic. I am learning that this carries the destiny authority that produces great effectiveness.
Before I was called to pastoral ministry I was called to express God's heart through paintings. I did not know how to do this. I tried many venues. (I was not as good at hearing God in those days.) I had no real focus or sense of vision of how to express God's heart through paintings and to share them with others.
It was only after twenty-five years of pastoral experience that the vision for this came. Now with creative journaling, music, Scripture meditation, in-depth friendships, rich worship experiences, and extended periods of time alone with God, I receive images that are full of God's messages to us.
Initially paintings most often came to me in a slow developmental way. I liken the process to that of human conception, development within the womb, and birthing. I got the seed revelation. I carried it in my 'spirit-womb' by attending to it and nurturing it with Scripture, prayer, and related revelation. I let it impact my life. I made room in my life for the revelation — allowing it to change the way I think and live. I let it make me larger as it grew in me. I waited with longing for its birth so I could share it with others and see it from their perspective. The pressure of carrying it grew greater over time. Most paintings took six to seven months unless God put a quickening spirit on it (a quicker development meant more intensely rough struggles in my life as I got expanded much more radically).
Because over the initial 8 years of this kind of birthing of paintings so radically changed me the process is not the same. God had cleared the channels. The more I surrendered the easier paintings come through. As of 2016 the paintings often come on by surprise…."suddenlies" or while the paint brush is suspended over the canvas.
Nonetheless, the birthing process is one of worship. It is not always easy. It always requires sacrifice. I sometimes must face very strong fears of failure and inadequacy. I am always called to paint beyond what I know I am capable of doing. I paint out of my weakness and beyond my understanding. It is a time of full surrender in the same way a mother must lay her life down to birth her child. The mother could die in such a place of vulnerability when she is birthing. I can only break through my fears and strong aversions to my inadequacies by focusing on who God is and worshipping who He is. This is the only way I can deliver accurately and safely.
God revealed to me that He would be giving me paintings that will carry the authority to be life-giving and fruit-bearing. The Enemy of God does not want this birthing to happen. Only humble worship can bring them into being so that His Word will not return to Him void. God sets the significance. God makes things happen through the paintings. These are God's pieces.
Besides watching God encounter people through the paintings one of the most rewarding aspects of this ministry is watching the liberation of people as they discover their sacred connections with God, where they have permission to be the CHILD of God. I love working with a group of people who know the importance of journaling but have never discovered how creative journaling opens the door of the heart. This discovery is electrifying!
Priscilla's Education and Experience Background
Bachelor of Science Degree in Art Education, Kutztown University, Kutztown,PA
Masters of Divinity Degree, Moravian Theological Seminary, Bethlehem, PA
Ordained a Deacon and an Elder and served as a pastor in the United Methodist Church for 25 years
Established an art department and taught art education at the West Fallowfield Christian Elementary and Middle School for 6 years
Wrote and illustrated Visual Encounters with God: Meeting God through creative journaling
Founded Glory Gazing Ministries in 2006
As of 2016 Priscilla has illustrated 4 published books that are circulated around the world and has ministered in France 4 times and in Israel 8 times.