Self Portrait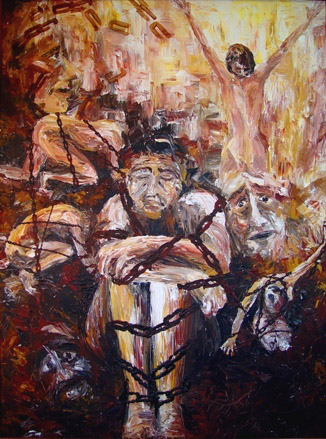 This was my self portrait back in 1973. I had a very amazing mystical encounter with the true love of God that wiped out a lot of my tragedy-based misconceptions of God. It came as I was in the midst of acting out that pain, anger, grief, disappointment, and frustration that had childhood roots.
Through this image God granted me the ability to SEE the spiritual chains with which I was struggling. Because artistic expression comes from such a deep place (the innermost place) I tried to hide this place from God with all my might. I did not believe I could trust Him with the innocence of a child, as I did when I was a child.
The encounter with the True Lover of my soul caused this painting to almost literally explode out onto canvas the next day. God continued to minister to me through this painting for years after, helping me to identify the chains, repent and permit Him to break them off me, changing my mindsets and behaviors, granting me more and more and more levels of true freedom.
This self portrait has become a mirror for many. It is not just a mirror but an importation of living hope.