Beginning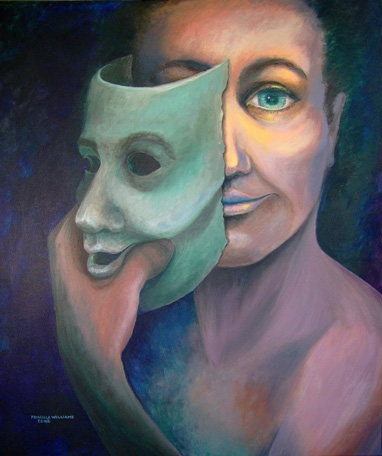 Why do we mask? Is it not fear of truth? Who is Truth? Is it not our God?
So our masks really are our attempts to control goodness, to make sure we get all the goodness we think we deserve.
This is nothing more than expression of our sin nature which at the very core is all about suspicion against the goodness of God, as if God is holding out on us. It goes back to the Garden of Eden…….the thought that "God is withholding some kind of goodness we have not yet experienced….. Surely God is not enough. So we will have to do something to make sure we get what we think is good for us."
It is the Lie/lies that form and entice the masks. We mask to achieve goodness for ourselves. We choose the mask that will 'control' the outcome for us.
This painting is about the person (designed to be male or female and not a definitive race) just beginning to trust the truth that it is better without the mask.
This person wants to let go of the suspicion against God's goodness and fully trust God. This person is beginning to proclaim, "God is totally good. I can fully rely on Him and not my defensive masking. I can let Truth set me free."
The one discarding the masks discovers true self, true grace and true freedom, indeed. Yes, there are risks. Those who want to stay masked may reject such notions and try to force the mask back on the one who attempts to reveal truth. Nonetheless, it is the beginning for this person. The smile (the joy of this) is beginning to break forth.