Fully Enter In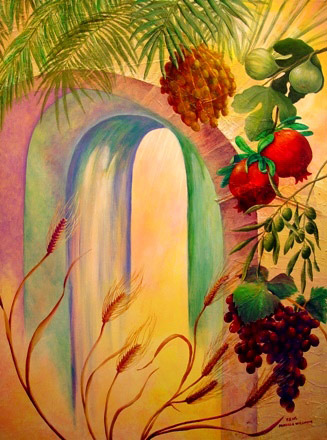 Deuteronomy 8:1-2, 7 – "Be careful to follow every command I am giving you today, so that you may live and increase and may enter and possess the land the Lord promised on oath to your forefathers. Remember how your God led you all the way in the desert these forty years, to humble you and to test you in order to know what was in your heart…… For the Lord your God is bringing you into a good land – a land with streams and pools of water, with springs flowing in the valleys and hills; A LAND WITH WHEAT AND BARLEY, VINES AND FIG TREES, POMEGRANITES, OLIVE OIL AND HONEY;…………."
For Israel the seven "species", as it is called, (WHEAT, BARLEY, GRAPES, FIGS, POMEGRANITES, OLIVES, DATES ) are called the symbol of FULFILLED PROMISES OF GOD. They remind the Jews that God has and will fulfill ALL of His promises. It is a symbol of eternal hope.  It is a symbol of God's faithfulness in being a "more than enough" provider.
The archway in this painting was constructed out of painted tissue paper. The structure was inspired by the gate known as Zion Gate in Jerusalem.
Isaiah 28:16 – …….this is what the Sovereign Lord says: "See, I lay a stone in Zion, a tested stone, a precious cornerstone for a sure foundation; the one who trusts will never be dismayed. I will make justice the measuring line and righteousness the plumb line; ………your covenant with death will be annulled; your agreement with the grave will not stand."
"FULLY ENTER IN!" invites our God. His promises are as good as done (maybe not in our expectations or time frame of reference).
Enter into the FULLNESS of the MYSTERY, the unknown of God …..finding security ONLY IN HIS PERFECT LOVE AND PRESENCE where no fear can inhabit.
The risk of this is only a perception shaped by fear.GOD IS ABSOLUTELY GOOD AND FULLY TRUSTWORTHY to make good on His promises.
FULLY ENTER IN!