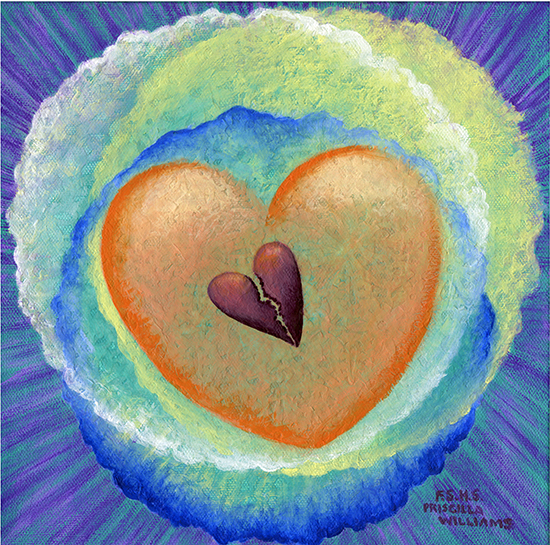 Safe Place
Where must the broken, torn heart go for ultimate healing and liberation? To whom can it turn to feel safe and to be nurtured? Safe Place illustrates the heart of the Omnipotent God cradling our torn and broken hearts.
The three outer circles represent our Triune God: The Father, The Son, and The Holy Spirit. Their soft colors and gentle textures illustrate His loving nature, His inclusiveness and His tender embrace. In contrast, the strong diagonal lines behind the circles could suggest His Power and Might over the universe He spoke into being.
PayPal Checkout
All image sizes are in inches.
Tax and shipping charges are applied in PayPal.
Paintings typically ship within 3-5 business days.
| | | |
| --- | --- | --- |
| 8 X 8 | $40 Plus S&H | |
| 10 X 10 | $60 Plus S&H | |
| 12 X 12 | $90 Plus S&H | |
| 15 X 15 | $120 Plus S&H | |
| | | |